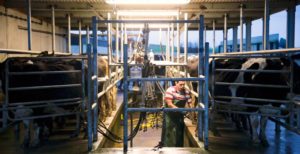 The ability of agricultural industries to attract the people they need to sustain themselves is a concern shared in most industrialised nations, according to Prof. Ruth Nettle, Associate Professor at the University of Melbourne.
Addressing over 150 delegates at today's Teagasc International Agricultural Workforce Conference in Co. Cork, she said: "There's some interesting dynamics going on around the workforce in agriculture. Overall, the total workforce – especially in industrialised countries – has gone down.
"In most developed countries, the agricultural workforce makes up less than 5% of the workforce and there's been a huge reduction in 20 years in industrialised countries."
Although the overall workforce may be expanding in such countries, those with the necessary skills to work on farms are shrinking; she noted that this is something that policy makers just "don't understand".
"The farm expansion and restructuring that's going on in countries has increased the demand. On farms, you don't just have assistants and farm hands, you have assistant managers and operations managers and a lot of different skills are required."
The Crunch
Continuing, she said: "Why there's quite a crunch for this high level of skills is what's known as the global skills shortage.
"This is what I'd describe as a perfect storm. You have an agricultural workforce crisis with expansion, plus the global skills crisis.
"Agriculture is starting to compete in an already competitive skilled space in other sectors, particularly trades and services. Global business analysts call this period of time 'the 20 years of a skills scare world'."
Quoting data from 2015, she noted that the vacancies within the skilled trades are generally the hardest to fill and agriculture falls within this category.
Solving The Problem
When it comes to solving the problem, she said, farmers around the world need to develop their own workforce strategies and these will intersect with the decisions of family members, the farm's innovation strategy and will require a broadening of the farm's traditional labour pools to attract and develop the new skills sought.
The collective impacts of diverse farm workforce structures and the highly-variable demand at a regional scale, she said, creates challenges on a number of fronts, including: workforce planning; identification and delivery of training programmes; and engaging labour supply companies or stakeholders to assist in meeting demand.
Seán Cummins – Agriland 10th July 2018