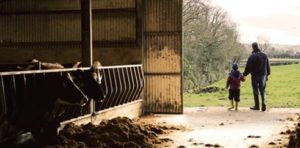 Farming is ingrained in the culture of this nation throughout generations. It is a way of life for so many families. Unfortunately, by its nature it's also a very hazardous occupation. In the last 10 years, excluding 2017 statistics over 200 families have suffered the loss of a loved one because of an accident on Irish Farms. Over 45% of those fatalities in the last 10 years have involved children or older farmers.
Agricultural-related fatalities is far higher than any other economic sector, this is due part to the blurring of the farm as a giant playground and place of residence. It is essential that all farmers take a proactive role in promoting farm safety and by putting health and safety issues at the top of their agenda. A farm accident can happen on any farm, but all too often farmers think "It won't happen on my farm"
The first step that all farms can take is to complete a Farm Safety Risk Assessment Document and a Safety Statement and ensure everybody who works on your farm reads and understands it.
Do not act in haste. Spare a second of your time and reflect on the actions you are about to take. So many lives are lost by people taking chances and not realising the potential outcomes that may happen.
Although tractors are an invaluable tool on the farmyard they should only be operated by competent people and maintained in good working condition. Children should never be allowed operate or drive tractors. They must be at least 14 years old and must have received adequate training. To driver a tractor in a public place a child must be at least 16 years old and be in possession of a provisional driving license.
Slurry tanks and lagoons must be fenced off and covered safely. The fence should be at least 1.8m tall so that it cannot be climbed. Agitation should only occur when there is good air movement. There should also be at least two people present who stand up wind. This can prevent death by drowning or asphyxiation which is one of the most common causes of death on farms.
Young children should never be left unaccompanied anywhere on the farm. It is not a safe space for them to play and should be treated with extreme caution. Children don't have the same ability as adults to analyse situations and make appropriate decisions. Create a safe space for them to play if necessary.
Ensuring that safety controls are in place and working may cost some extra money, but can you afford not to pay it? Serious accidents can not only cause immeasurable heartache and suffering, but they can also leave you in financial ruin. FBD recommend that all farmers have adequate Personal Accident, Employers Liability and Public Liability Insurance in place.
Article supplied by FBD insurance.