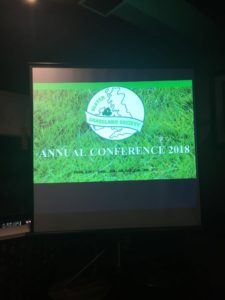 David Wright, Farmers Journal reports from the 59th annual conference of the Ulster Grassland Society, which was held this week.
The onus is on the dairy industry to develop the concept that working on a farm after leaving agricultural college can be a good career choice for young people leaving agricultural college.
That means making sure that young people are not just seen as a source of cheap labour to milk cows, but are offered pay that is competitive with other professions, and given options longer term, such as becoming part-owners in a herd, or a share-farming arrangement.
It was one of the main messages from Joe Rowe, managing director of farm recruitment company, Farm Solutions Ltd, and among the main speakers at this week's Ulster Grassland Society annual conference.
He pointed out that getting good staff to work on farms was becoming increasingly difficult, given that there are many industries competing for a limited pool of labour. He also put the challenge to our agricultural colleges, that while they might have plenty of students, they are not feeding through into farm worker jobs.
"We don't seem to be getting people coming from our colleges. They are either going home to work on the family farm, or heading off to do something else. It is possibly something we need to look at in the future," he said. Over 50% of workers placed by his company are from outside Britain or Ireland, and mainly from eastern Europe.
While finding the right person is a problem, Rowe had a number of pointers for those looking for farm staff. His main message was that if done correctly, having employees can be an opportunity to expand the business, not a headache that limits future growth.
Firstly, he said it was important to plan, knowing what you want from a farm worker, but also being realistic that they might not have all the skills, and won't have the passion for the business that you have.
In the selection process, a week on trial can act as the best interview process, but aside from that, he maintained that it was important to conduct proper interviews, have a two-way conversation, listen, and find those with good motivation and determination. Don't make it too easy, as an easy start can mean an easy finish (a worker just doesn't turn up some day), be nice to poor applicants, and if someone does move on at a later date, try to make sure it is on good terms. "Remember your reputation. It gets around – your farm is one to be avoided," said Rowe.
As well as initial training, it is often good practice to have written protocols in place to cover key tasks such as milking, and to ensure there is no room for misunderstanding.
To help motivate staff, putting in place bonuses and financial incentives has a role. "If performance is improved, why not share that with those who helped make it. A bonus can cost you money, but it can be a source of profit. It also must be clear – a non-disputable number," said Rowe.
Accommodation
With it now almost impossible to get someone close at hand to work on farms, it means that providing accommodation is increasingly becoming the norm suggested Rowe. Where good facilities are available, it could help attract a worker, but where the accommodation is to a poor standard (or a mobile home), it is probably best to have none, he said.
"Do it well. Make sure it is neat and tidy. If someone is prepared to live in rough conditions, what will they be like in the parlour or the calf shed?" he asked.
Communication
When working with people, clear communication is vital, workers should be treated with respect, the atmosphere on the farm should be kept positive, and poor performance should be dealt with early.
"Aggression does not work. People have other options. You will end up milking your own cows," concluded Rowe.